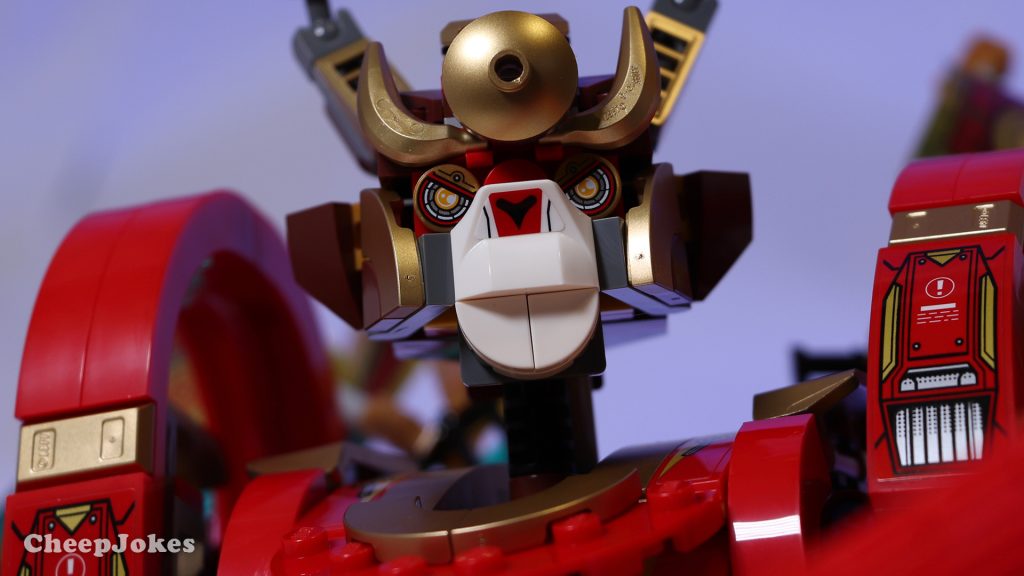 Theme: Monkie Kid
Item: 80012
Pieces: 1629
Buy it here: LEGO Shop
"The golden dream for piece monkeys"
I'm usually a Minifig kind of person, if a cool Minifig comes with a set, that's usually enough to get my buy-in. This set comes with 6, which is a great start, but it's not why I wanted it!
After seeing our good mate Henry Pinto aka. @the_lego_dark_knight pumping out so many cool Mech Robots, and with my level of creative building (almost zero), I though this Monkey King Warrior Mech would be a good starting point to learn the basics. But the set being listed as ages 10+, I was clearly out of my league.
The Mech is impressive, standing over 40cm tall, Minifigures crumble in his shadow. But unlike Henry's Mechs, I found this builds poses quite limiting. There are blocks in place to stop him behind certain ways, which I assume are also in place to assure a stable balance pose. This also means getting him to hold his staff in a variety of positions is limiting.
The mini street scene is a cool addition to come with the set, it has a true Japanese vibe, cool colours and look, which I feel, really popped in the photos.
Now, who likes shiny things?! I know you do! Well guess what? There are 119 golden element in this set! That's right! 119! Including 2 golden bananas, 6 golden wheels, and 24 gold bars. This set is worth its weight in plastic.
A little shout out to the instruction manual on this theme also, it has a fun comic book feel to it, just a little bit of fun that adds sumthin' sumthin'.