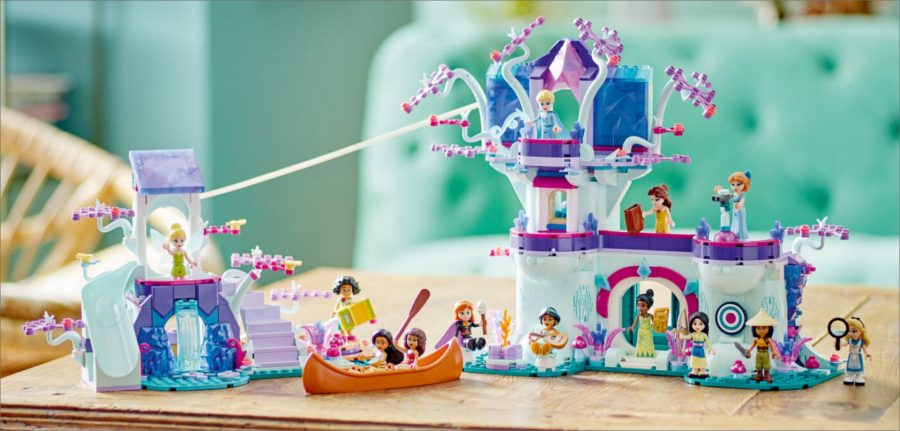 Meet your favourite Disney heroines at The Enchanted Treehouse!
This amazing LEGO® ǀ Disney set is ready for you to have a magical time exploring and going on endless adventures. Do some reading, take a canoe ride, dance, hone your warrior skills, search for hidden treasure – the list is endless! You can do anything you can imagine with 13 beloved characters in this incredible tree house!
Inspire kids aged 7 and up to new heights of imaginative play with this LEGO® ǀ Disney The Enchanted Treehouse (43215) set. It has a 2-level tree house construction toy, waterfall, zip line, 13 LEGO mini-doll figures, plus lots of accessories and features to inspire play, including a cave hidden behind the waterfall and a secret staircase in the tree house. As they build, kids can enjoy an easy and intuitive adventure with the LEGO Builder app, zooming in and rotating models, and tracking progress.
Adventure with heroines
This set sparks creative storytelling and helps grow kids' confidence as they play with beloved characters. The set works for group play and can be added to other LEGO ǀ Disney sets (sold separately) for more fun.
Iconic Disney Princess collection
This premium set is packed with characters, including Disney's Mulan, Raya, Elsa, Moana, Tinker Bell, Alice, Wendy, Belle, Tiana, Anna, Pocahontas, Princess Jasmine and Mirabel, and makes a fun gift to impress Disney fans of any age.
Endless stories – The tree house model measures over 9.5 in. (25 cm) high, 14 in (36 cm) wide and 5 in. (13 cm) deep, and combines with the waterfall build to inspire hours of play
Featuring LEGO® mini-doll figures of Disney's Mulan, Pocahontas, Raya, Moana, Tiana, Princess Jasmine, Mirabel, Elsa, Anna, Alice, Wendy, Tinker Bell and Belle for unlimited role-play fun
The buildable toy set includes a 2-level tree house, a waterfall with slide and hidden cave, a zipline, hidden staircase, canoe, campfire and lots of other functions and accessories
Find out more via our LEGO News page, or shop now at LEGO.com