LEGO Masters Germany recently started airing on RTL. Unfortunately, it's rather difficult to get footage or images of the show, but I have managed to find a handful of pics from the Instagrams of the contestants and also worked out what the challenges were.
I find this quite interesting, as expected the challenges are the same as we have seen on Australian and US series, but I love seeing how new contestants interpret the challenges in their own creative way. We saw what Bilsy and Kale did with half a bicycle, now we get to see what Felix and Annalena come up with!
In this version of the show, Germany has gone with a six-team line-up, which I assume will be fewer episodes overall. The set is almost identical to that of Australia and the challenges are also the same it appears. I haven't found pictures of all the builds, but I'll share what I have found. Leave a comment below with any cool building techniques or features you notice!
All photo credits go to the contestants and the RTL network.
There are only 4 episodes in this season, and we'll be bringing you the Finale pics as soon as we can!
Cast
Judge: LEGO Certified Professional René Hoffmeister (@brickfabrik)
Host: Daniel Hartwich (@danielhartwichnews)
Meet The Teams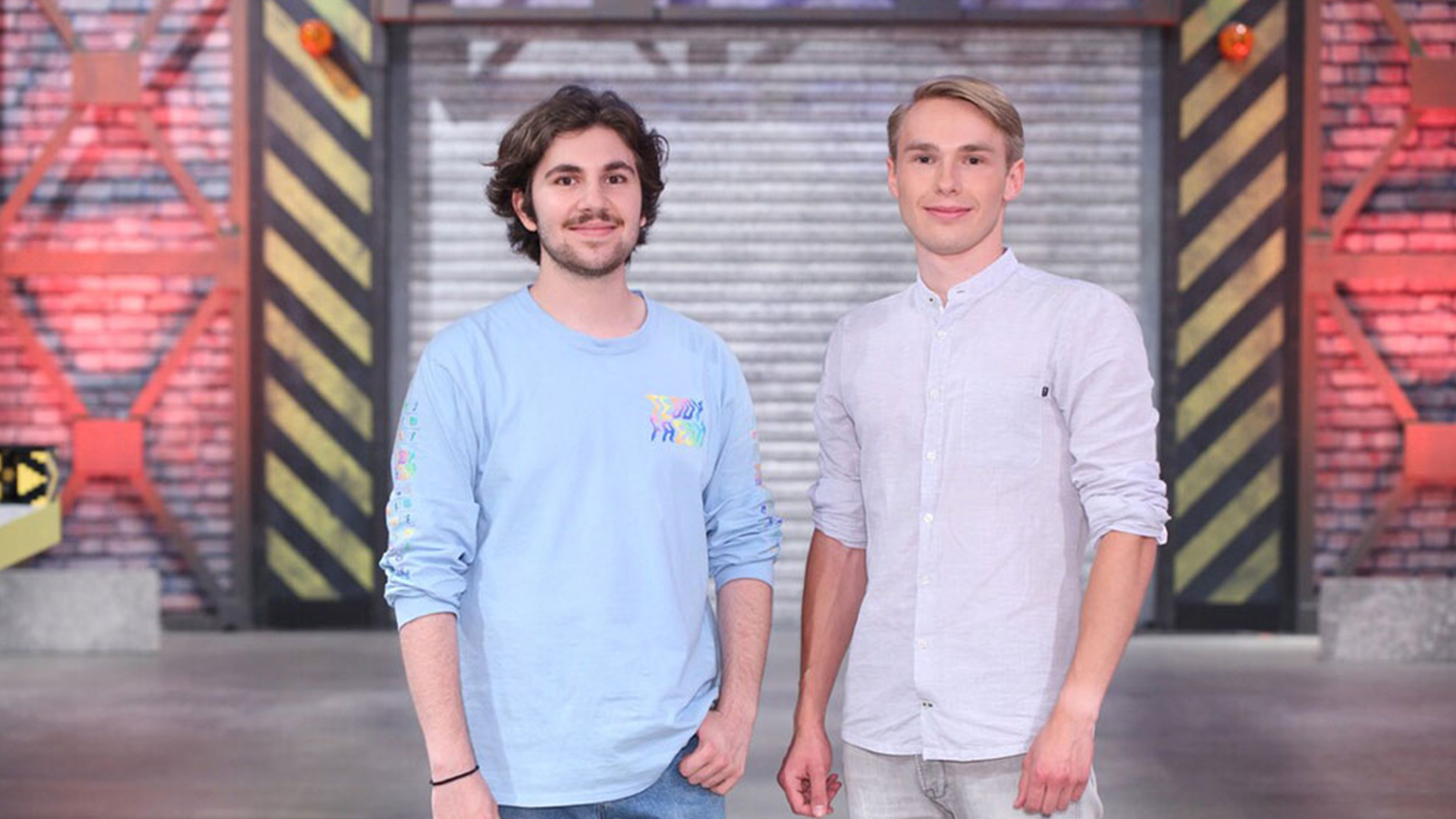 Moritz is 21 years old, comes from Zeuthen and is also professionally involved with the colourful Lego bricks. After leaving school, he founded a company that sells Lego models. Together with his team partner Pascal, he prefers to build historical buildings and vehicles.
Pascal is a student, also 21 years old and comes from Unterhaching. He has been enthusiastic about Lego since he was two and always tinkers with new creations, alone or with Moritz. Pascal has experience in competitive Lego building: He has already taken part in several competitions.
Annalena is 24 years old, comes from Mayen and is studying sports science. In addition to her passion for Lego, she is very active in her free time: athletics, bouldering and weight training are among her hobbies. She meets with her team partner Felix several times a month to build.
The 18-year-old.
Felix already has TV experience: In 2019, he made it to the final of the RTL show "Big Bounce". He's also very active in sports when he's not developing new designs with Annalena and putting Lego building blocks together. He is the show's youngest candidate.
Lidiana comes from Bolzano in Italy and is 37 years old. She works as a teacher and started building with Lego bricks when she was a child. She took the only Lego break during the final exam phase of her studies. Husband and team partner Hubert shares their passion and the two tinker with new ideas several times a week.
Like his wife, Hubert comes from Bolzano, of course. The 38-year-old Italian is also a teacher and likes to exhibit his creations in the shared living room. The two of them are so infatuated with their Lego bricks that they even sort out clothes on vacation to make room for the coloured bricks in their suitcases.
Juliana is 34 years old, comes from Stuttgart and works as a manager in the field of software development in a mechanical engineering company. In her free time she likes to travel, gain new experiences and live out her creativity and desire to discover new things with the colorful Lego blocks.
Varda comes from Wimmis in Switzerland and is 44 years old. She has already participated in the Swiss finals of the LEGO World Championship and prefers to build her lifelike Lego garden railroad. Thanks to her creations, she already has a growing fan base on various social media platforms.
49-year-old Frank comes from Remagen and publishes his self-made Lego designs online. With his posts, he sometimes reaches up to 270,000 people. He is creative and goes into the competition with confidence: "My strength is to find solutions even without a plan," he says before the show.
Luca comes from Geseke, is 40 years old and works as a management consultant. He prefers to build constructions in a post-apocalyptic setting. When they meet with team partner Frank, both often bring their own creations with them, for which they give constructive criticism.
Alexander is 40 years old and comes from Cologne . He has turned his hobby into a profession and earns his living as a designer of construction blocks. His passion for building has only one limiting factor: he is slowly running out of space for new models in his apartment.
Björn comes from Bischofsheim, is 34 years old and prefers to realize his Lego creations on the PC because he never runs out of digital bricks. But he has also had experience with real stones since childhood. In addition to his passion for building blocks, sport also plays a major role for him: Björn is a triathlete.
(Profile information from https://www.augsburger-allgemeine.de/)
What We Have Seen So Far
Thanks to Moritz posting on Instagram, I have been able to confirm the challenges, as he had created amazing micro builds representing each challenge.
Episode 1 – Mega City – Invasion Der Giganten (I

nvasion of the giants)
As seems to be a tradition for LEGO Masters around the world, the first episode is a bit of a warm-up. As we saw in Australia Season 1, the contestants must be a Mega City block, before the twist that latest comes… An invasion of the giants. A slight variation of the Australian monster attack.
Juliane and Varda were the best team in this episode, winning the golden brick! But it was a short trip for Frank and Luca who were sent home in the first episode.
Episode 2 – Explosiv aka. The Hero Shot
As saw in LMAU Season 2, The Hero Shot! From what I can see, slime, water, chalk and glitter element were all included! Check out the video below the gallery for all the builds and explosions.
In an elimination challenge, Juliane and Varda went head to head with Annalena and Felix in a challenge that required a swooshable vehicle in just one hour!
After being the best team in Episode 1, Juliane and Varda were sent home in Episode 2, which saw the golden brick handed over to Alexander and Björn.
Episode 3 – Halb-Halb (Fifty-Fifty aka. Cut In Half)
Another familiar challenge from LMAU Season 1, the cut in half challenge, where contestants must build on the other half of an object that was cut in half. We are all familiar with Bilsy and Kale's horse/bike, and Annalena and Felix have followed a similar vibe in their tremendous build. Unfortueltny not a lot of photos available for the other contestants on this challenge, but it looks like four teams are left, Moritz and Pascal, Lidiana and Hubert, Annalena and Felix, Alexander and Björn. In that respective order, the objects they had to build from were a set of scales, a watering can, a bike and an accordion.
But after this challenge, two teams had to go head to head! (More below)
Episode 3- Head To Head Challenge
After the Cut In Half Challenge, Moritz and Pascal went head to head with Lidiana and Hubert to avoid elimination. Teams had to build something new using just the bricks from the Garden Gnome below. Unfortunately, this saw Lidiana and Hubert heading home.
Other Photos
LEGO Masters Germany appears to air on Friday nights, be sure to sign up to our blog and follow our socials to see photos from future episodes once they are available.
Leave a comment below with any cool building techniques, features you notice or your favourite build!
If you enjoy reading our articles, please shop at LEGO by using our affiliate links below to show your support. Thank you for reading!
Official LEGO® Shop
Thanks for reading, if you enjoyed this please leave a comment below,
or if you would like to be a guest blogger
Follow us on

Facebook

and see

LEGO

news first!
…and subscribe to YouTube for Videos!