What went down (for non-Block watchers)
Either Hamish has had a really rough Lockdown in Melbourne, or Brickman is on the wrong show! I'm not a television watcher thanks to parenting small humans and exhaustion. But when I saw that LEGO Masters Australia was doing a BLOCK cross over, I was certainly intrigued.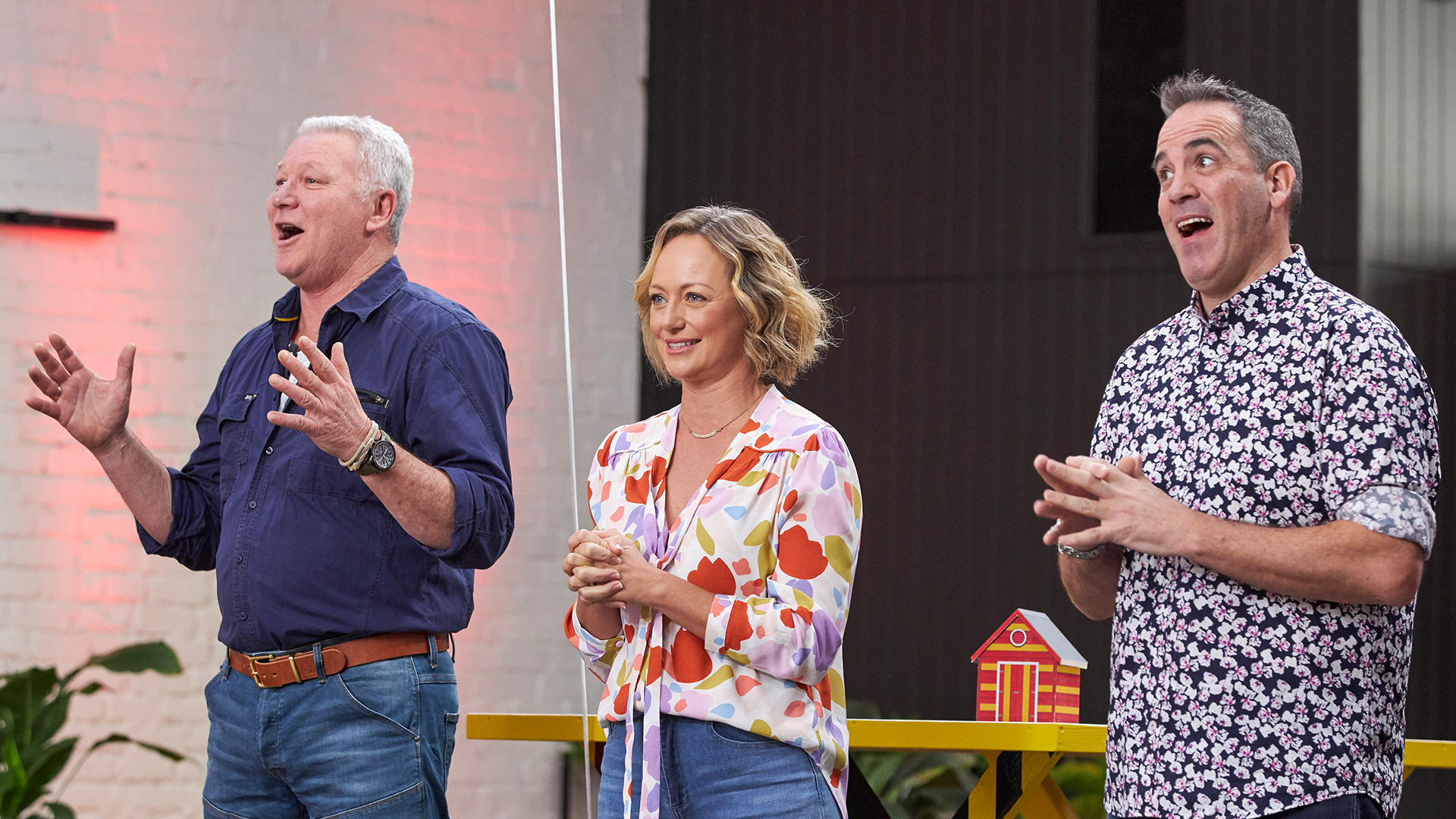 The Challenge
Over 40 mins into the show and finally! Brickman enters Shelly's HQ and the teams light up for some frivolous fun. Their challenge is revealed. Build your dream home! The hosts suggest free-reign design with no restrictions. All that matters is that the dream home needs to be LEGO. With his Dad charm, Brickman suggests helipads. Ridiculous shoe collections and ultimately a place for your imagination to run completely free from the constraints of budgets and tradies.
Each team has just 5 hours to complete their dream home. They'll need to "sell" their story to the Brickman himself upon completion to be considered for the prize. The downside that I see here is the lack of Brick Pit. Instead, all teams must scramble with Block branded buckets and sort their own. LEGO from 4 kiddie pool-sized pits in the centre of the build floor. Ouch.
The Prize
The 5-hour challenge bounty is revealed. $10,000 cash for their building project AND a $10,000 fully installed My Place Smart Home System. This prize is worth a whopping $20,000 towards their building projects.
To put that in perspective, the winners of LEGO Masters Australia worked solidly for hundreds of hours over a number of weeks to win $50,000 each. The block contestants get to build for 5 hours in one afternoon and that's worth $20,000! Possibly $30,000 because of a gnome.
Also, there's a bonus gnome which I do not understand at all, because I have never actually watched the Block before right now.
As the clock ticks down I'm seriously triggered (thanks Hamish) and yet these teams. With little to no experience with LEGO are really nailing their briefs. So let's see their builds.
Jimmy and Tam
Jimmy and Tam head into the challenge with a clear strategy. Their dream is to go completely off-grid and live in a self-sufficient barn with solar panels. Crops, wind power and a selection of hilariously adorable mutant animals.
Off the bat, Jimmy and Tam take on a fundamental lesson from LEGO Masters. Always listen to Brickman. Brickman suggests their dream is a little too big and they might want to rethink scale. So naturally, the notorious winners of challenges take on this advice and reduce their barn size.
Inside, the barn has all kinds of beautiful features which are revealed when the technic components in their roof slide back. A mezzanine floor filled with beautiful stories appears.
The tractor, garden and greenery really lift the landscape around the barn and tell a wholesome tale of their dream home. Also Tam, NPU with mudguards for animal legs. They're adorable and scary all at once!
Harry and Tash
The Grecian odyssey rapidly extends upwards and Harry and Tash struggle a little with roofing colours. Tash gracefully deters Harry from a brown baseplate roof, encouraging a more pleasant palate for their oasis. I'm pretty thrilled that she did because the overall look is light. Refreshing and makes me want to take a trip to the Mediterranean.
They highlight their dream speed boat, swimming pool, deck chairs and sunset views. Which will one day become a reality on their own block of land in Tash's mother's home town.
During Brickman's classic team encouragements, he takes a moment to call Hamish Blake and share the secret goings-on behind his back. Hamish is hurt, but ultimately forgives the Brickman, sharing words of encouragement for the teams too. (He is a LEGO aficionado after all). Hamish highlights that the only thing that would make Harry and Tash's model more Greek, was if it was smothered in tzatziki.
Luke and Jasmine
At first, this dream build was all about a white beach house, and as Luke and Jasmine got into their LEGO groove. The Spanish flair took hold. Their child-free villa has a hot tub on the deck, a pirate pool with waterfall. Cocktail bar and a deck for the in house DJ. This is definitely a fantasy dream home that would tantalise even the most dedicated of family people.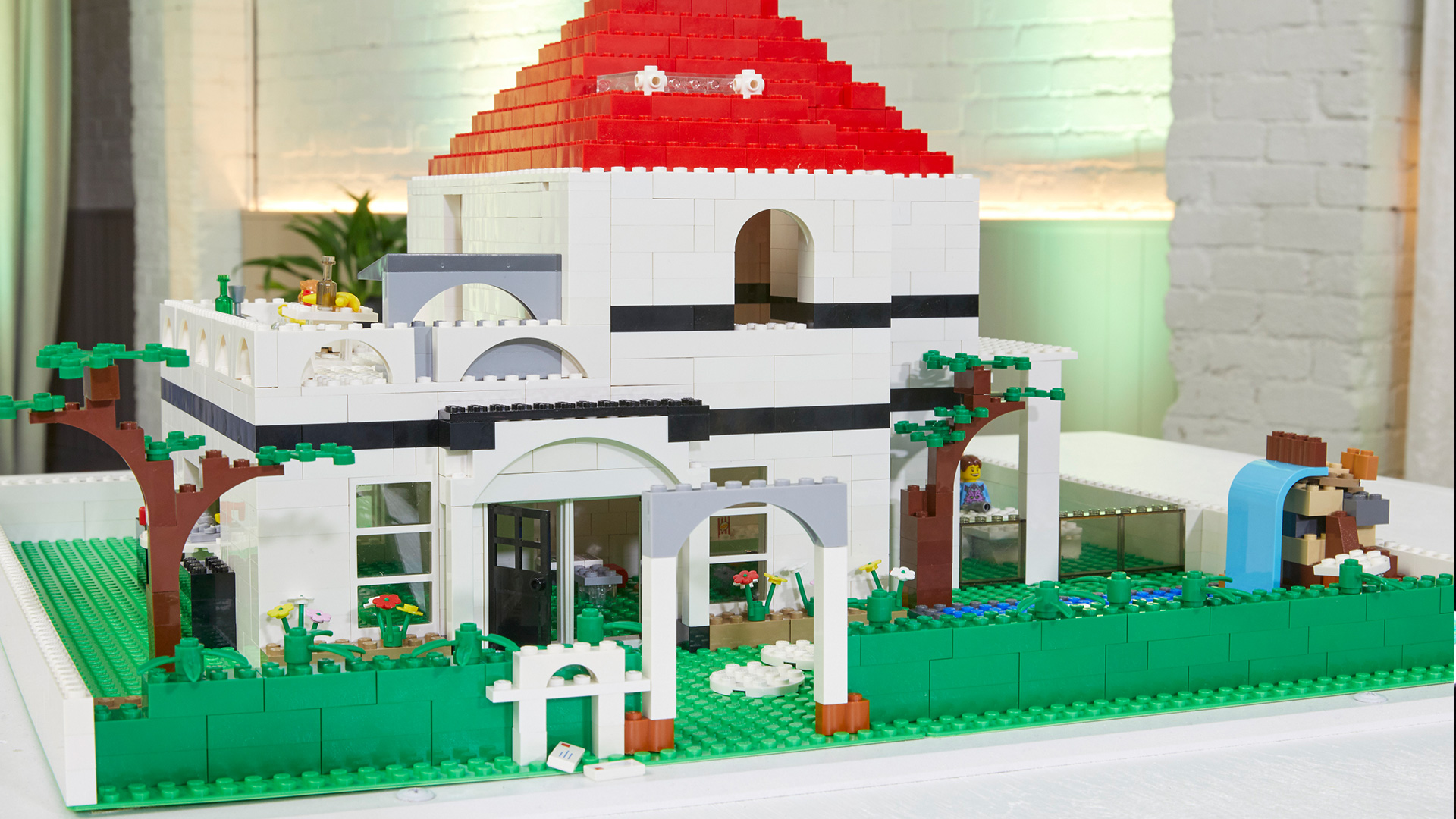 Sarah and George
I've never watched this show and I already love George. He is described as the eternal man child and I'm kind of shocked to discover he's never touched LEGO before. Sarah begins by building rainbow walls and shares how rainbows are a sign that her Grandmother is with her. It's a beautiful sentiment that shows the importance of family in their dream home.
While building, we witness something that is a complete breach of LEGO competition, however. The gorgeous George sneakily asks Brickman to HELP him build for their model and Brickman obliges! Brickman gets to work designing an ultimate Batmobile for George.
Their model is simple, sentimental and topped off with a tennis court (not soccer, Summer and Iona). 😉
Daniel and Jade
The dream for Daniel and Jade is a mega-mansion that Shelley feels would fit nicely in the Hollywood Hills. They've dreamed up a sunken garden in the centre of their home filled with natural light and zen. As well as a sprawling deck that is home to a 5 ton crane! Brickman is a bit stunned by the need for renovations on a dream home but Jade is confident in her delivery. Sharing that the couple are most content when creating and changing the place they call home.
Scotty and Shelley
Even though Scotty and Shelley weren't in it to win it, they had a crack and built a model with some quirky features. I think I caught a rooftop helipad and Tarzan like treetop walkways. Scotty did do something a little risky for my liking and committed a cardinal LEGO sin. He drew on his LEGO bricks! But to be honest, his bricks were limited, and the logo placement for Channel 9 was pretty cute.
Who Won?
All of the Block teams did a brilliant job working within their brief and giving their all to a different kind of challenge. But instead of revealing the winners, Brickman revealed all those that didn't win.
Scotty, of course, was a no and in his anguish, turned to his tool kit to reveal a ridiculously dangerous-looking sledgehammer. His rejection frown disappeared. As soon as he swung that hammer directly at his model and smashed it into fragments of once whole LEGO pieces. As each loser was revealed, Scotty smashed away until the final two were left standing and as predicted.
The team with the most technical ability, story and aesthetic with respect to shape took out the gnome-y prize. Congratulations to Tam and Jimmy! Strictly from a LEGO perspective, it was completely deserved, but as the Block narrative goes, Tam and Jimmy won again… And I don't think the other teams were too thrilled about that.
---
Thank you for reading
Support BrickBanter.com by shopping for your LEGO® via the affiliate links below.
It'll cost you nothing but will mean the world to us. 🫶
🇦🇺 Australia – 🇨🇦 Canada – 🇪🇺 Europe – 🇬🇧 United Kingdom – 🇺🇸 United States – 💛 Everyone else
---
Explore more articles