LEGO Masters Australia
Season 3 Episode 10 – Recap
There are dancing feet at the roller door and our top 6 teams are welcomed to their next elimination build. Scotty's shoulders drop when he sees a race track that he's not allowed to build in and we wave off Owen and Scott thanks to their win last week. Tonight there are two challenges, an advantage build and an elimination build.
'Drag Race' Challenge
Challenge 1 of 2
Hamish and Brickman are feeling generous and so the advantage is revealed! The winners of tonight's first challenge will take out a one hour advantage in the elimination build. The challenge, to build the fastest car in a series of 3 races. The slowest team each round will be eliminated, with 5 minutes in between each race used to tinker and adjust. And the twist, all the wheels and tyres have been removed from the Brickpit. The roller door opens to reveal a special guest too, Trent from Season 2 is back to share his intense enthusiasm for everything and it is so wonderful to see his face back on screen.
LEGO Masters Australia Season3
The Builds
David & Gus – Rubber tread wheels
David and Gus start with technical marvels and all kinds of whacky wheels. They settle on work on friction-based wheels using rubber grips. It's engineering at its finest. But will it go?
Harrison & Michael
Harrison and Michael start with treads and tank vibes but it's just not fast enough. In the end, they watch on and adjust their plan by adding satellite dishes like the others.
Ryan & Gabby – Tube Racer
Ryan and Gabby work on a 4 wheeled model and opt for balance and some additional bumper guides. They spend a few hours working on wheels created with woven tubes to give friction, but the ride is uber bumpy. It's clever but will it be fast enough?
Sarah & Fleur – Roundey Holey Wheels
Sarah and Fleur aren't confident in their streamlining, and add a little bit too much weight to their vehicle but are still keen to give it a crack. It has wheels, they have holes. Even if they get knocked out in the first round, they're having fun!
Jess & Anthony – 3 wheeled dragster
Jess has a bit of an advantage in this challenge with her STEM passions and understanding of the think-make-try-refine concept. They know what's going to work and straight off the bat have created a lightweight, three-wheeled speed machine with satellite dishes to reduce friction and wind resistance.
During refinement and watching other teams test, there is a general consensus that strategies need refining and all the teams take a leaf from Jess and Anthony, replacing their wheels with satellites discs for speed.
The Verdict
It's time to RACE! Trent is here with his headphones and commentator voice and we're absolutely in love with his enthusiasm for such a short distance. Also, his shirt. Did you know you can buy one?
Lights flash and countdowns are on. Within just a few seconds the cars are flying down the track and slamming into the barrier at the finish line.
RACE 1 Gabby and Ryan are quick off the go and are a fraction of a second ahead of Jess and Anthony. Sarah and Fleur are last across the line.
RACE 2 Ryan fumbles with his remote and the team suffer because of it. Jess and Anthony take the win. David and Gus don't move and are eliminated without finishing.
FINAL RACE With 3 teams remaining it's close. Cars are refined to the final second and in the blink of an eye, Jess and Anthony take out the win for an ultimate advantage in the next elimination. One whole hour more than everyone.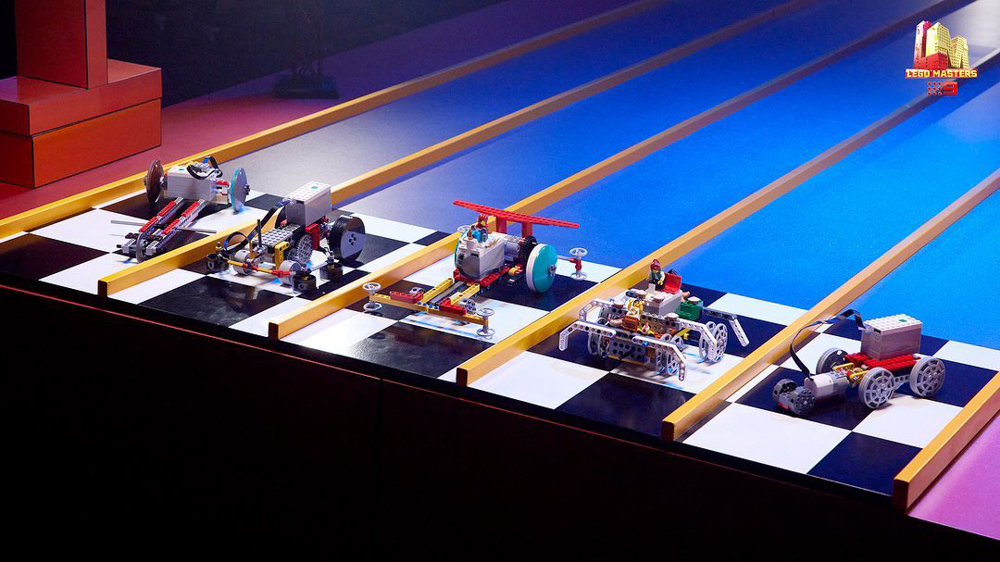 'Dream House' Challenge
Challenge 2 of 2
The challenge tonight is simple. Build your dream home! Each team has a blank canvas and 11 hours (12 for Anthony and Jess). Brickman is clear that he's looking for storytelling and aesthetics more than technical ability. Jess and Anthony are blessed with a whole hour of advantage and take the time to crack into planning while all the other teams watch on and gain some handy knowledge from Brickman. What will their dream homes be? What will they look like? What will they encompass?
The Builds
David & Gus – Tree House
Gus isn't feeling this challenge. We see a whole beautiful element of him when he explains that he doesn't have a dream home. His dream is just to be with his family and the people he loves rather than a particular place of fantasy. (I'm a little bit in love here). Still, the two crack on with an idea of a house on a cliff and now they have a box on a cliff. So the duo isn't feeling it and it's time for revision. They decide to build a jungle getaway with a treehouse and family at the centre of the build. Beautiful!
Harrison & Michael – Tiny Home
Harrison and Michael decide to take one of the biggest risks in LM history. Changing the brief to suit their vision of dream home. For them, a dream home isn't the actual house, instead, it is the landscape and together they are creating a micro-scale house in a beautiful setting of emptiness and vast open desert. Their NPU is on point.
Anthony and Jess – Billionaires Dream Home
Jess and Anthony's enthusiasm and bonus time have got the better of them. They've run away with ideas without thinking about the actual look of their house. The duo comes up with amazing internal ideas but the challenge is to build a dream house, not furnish/decorate the insides of said dream. they refine their build based on what they want to include and come up with a billionaire's beachside mansion with intense playability and removable layers.
Ryan & Gabby – Family Retreat
Ryan and Gabby aimed to create a true dream home. By giving all us parents capsules of child-free alone time and soundproof sleeping pods of joy. It's set on the beach (nice) and features a super functional family pad with lots of details and stories. What could possibly go wrong?
Sarah & Fleur – Hollywood Art Mansion
Sarah and Fleur are the artists and this build is so them. They dream about a Hollywood mansion of art where the two of them can create and be served by handsome men as they socialise and have a magnificent life. I'm down for that! Music, art and culture are the focus of this build and their classic inclusions of black and white checkered floors and grand entranceways (and a maze that kids can get lost in) are amazing.
But what is going on now? It's 3 hours to go and Hamish has stopped the clock. Why would he do that? OH YES. It's a MID BUILD TWIST (Well, actually it's a toward the end twist). With just 3 hours to go, these builds are about to become a nightmare. Teams must still finish their builds but now, the dream is no more and something awful must happen for the story to be complete.
Anthony and Jess's billionaire pad is going to be washed out by a tsunami, David and Gus have an enormous beast of a snake terrorising their family peace, Ryan and Gabby's perfect child life has been crashed by a darned ice-cream truck (curse you sugary goodness!) and Michael and Harrison's dream of quiet solitude has been taken over by greedy developers.
The Verdict
It's close, but the team tonight with bragging rights is Ryan and Gabby! Brickman loved their use of colour and story incor
LEGO Masters Australia Season 3 – David & Gus
Next Episode – Avengers Challenge!
Thanks for reading, if you enjoyed this please leave a comment below.
Follow Annie on Instagram
If you enjoy our articles, photos and videos, please show your support by clicking below and buying your LEGO via the affiliate links below to show your support. Thank you!
Official LEGO® Shop
Check out the new book by LEGO Masters Australia Season 1 winners Henry and Cade!
Brick Dad is currently available for pre-order by clicking here.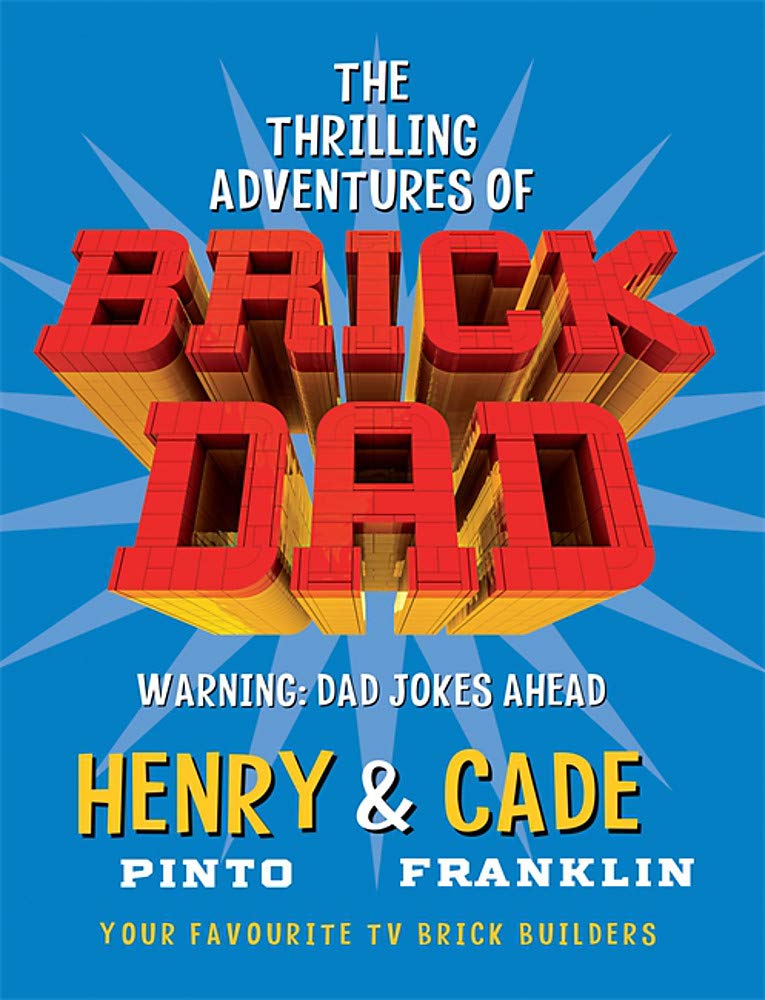 FIND US ON SOCIALS
You can also find us on Facebook, YouTube and Instagram.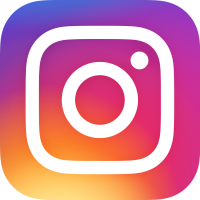 @CheepJokes
Review sets and new release announcements are provided by the
AFOL Engagement team of the LEGO Group for review purposes.
All opinions are my own.